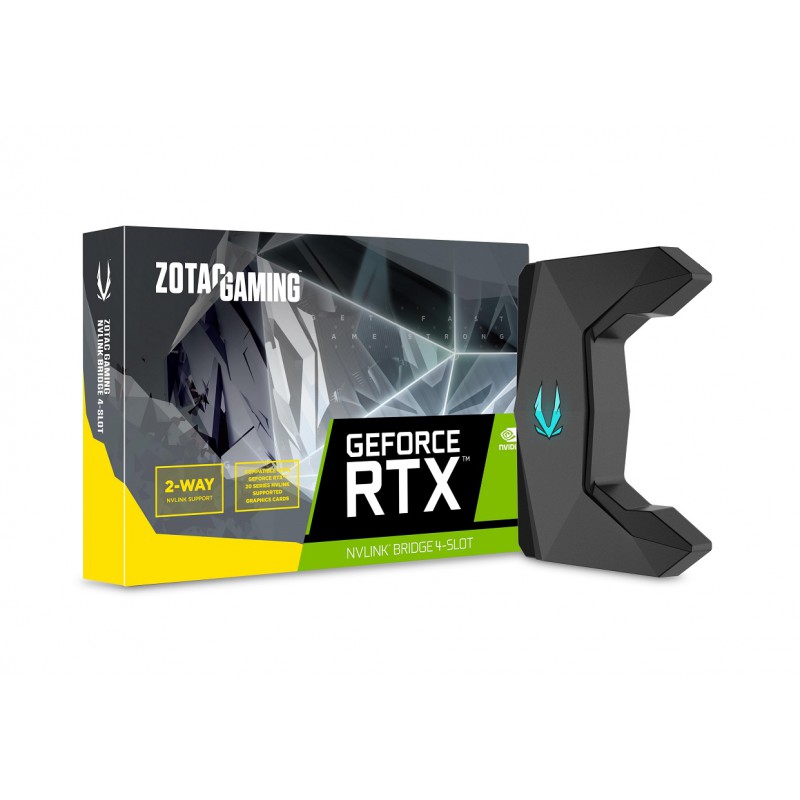  
GAMING NVLink Bridge (4-Slot) (ZT-NVL0B-10L)
ZOTAC Gaming NVLINK SLI Bridge (4 Slot)
The ZOTAC GAMING GeForce RTX NVLink bridge connects two NVLink SLI-ready graphics cards to enable more bandwidth. This means you can count on super-smooth gameplay at maximum resolutions with ultimate visual fidelity when paired with any GeForce RTX NVLink comptible graphics cards.

We Accept PayPal security Payment

Packages are generally dispatched within 2 days after receipt of payment

Aristotech offers a 15-day return & exchange service from the original purchase date unless specified.
Reviews
No customer reviews for the moment.
2 other products in the same category:
ZOTAC HB SLI Bridge (1 Slot)
Maximize your gaming performance with the ZOTAC SLI HB Bridge. Faster SLI performance is achieved by utilizing all available SLI keys to double the available transfer bandwidth.
Price
CA$23.99
Regular price
CA$53.99
ZOTAC RAIDBOX, ACCESSORY, MICRO USB3.0, 2 X MSATA SLOT
Keep lightning-fast storage in your pocket with the ZOTAC RAIDbox USB 3.0 storage device. The ZOTAC RAIDbox enables users to customize the amount of storage available by accepting compact mSATA SSD drives for outstanding performance in a miniature form factor.
Two mSATA slots with support for RAID 0 or 1 technology are available in the ZOTAC RAIDbox to let the user choose between maximum read and write performance with RAID 0 or protect your data with RAID 1. A USB 3.0 interface connects the ZOTAC RAIDbox to compatible PCs and devices to eliminate performance bottlenecks and achieve maximum performance.
Price